Amaro Nonino Quintessentia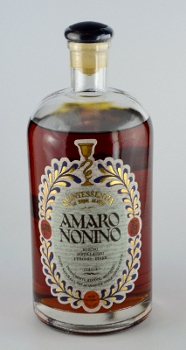 Amaro Nonino Quintessentia is a grappa-based Amaro (bitters) infused with mountain herbs. It is aged five years in Nevers, Limousin, and ex-sherry barriques, which are relatively small barrels, before bottling. The base ingredient here is a grappa made by the Nonino company. It's a blend of Ribolla, Traminer and Verduzzo grapes. The grappa is mixed with grain alcohol and infused with caramelized sugar, cinchona, quasi wood, rhubarb, saffron, orange peel, tamarind, galenga, gentian and licorice.
Amaro Nonino is a beautiful drink with fragrant herbal aromas and smooth bitter-sweet flavours, and notes of bitter oranges. If you are not familiar with Amaro, the Nonino product is subtle and one of the best brands to initiate your palate to, for this style of drink.
Nonino isn't just the name of a world famous Italian distillery, it is also the story of a great passion for grappa. Founded in 1879, it is still a family run business. Today it is operated by sisters Antonella (marketing manager), Cristina (production and sales Italy) and Elisabetta (export and company relations), all managing directors. They are supported by a staff of 34 people, 25 are women.
Traditionally, Amaro is brought out at the end of a meal, but I serve it most often as an apéritif. I love it slightly chilled. Amari have moved recently from the back of the shelves to center stage in North America. With the revival of the artisan cocktails, Amaro is being mixed with a multitude of spirits to create new modern concoctions.
Try a fabulous Negronino cocktail.