Bailey's Irish Cream Liqueur Family Of Flavours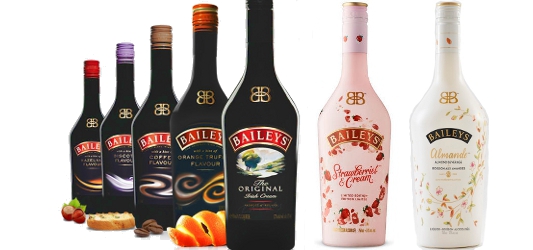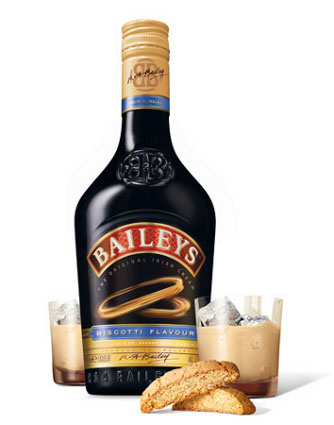 Bailey's Irish Cream is one of the best selling liqueurs in the world. Bailey's Original was created by Gilbeys company from Ireland, and now the brand is owned by Diageo. Bailey's was introduced in 1974 as the first Irish Cream on the market. Bailey's is the combination of Irish whisky, cream, vanilla, a hint of chocolate, and other secret ingredients. Since then, the company has introduced four other flavours: Mint Chocolate, Crème Caramel, Coffee, Hazelnut. The newest flavours for Bailey's are strawberry cream and dairy free almond cream. Go to the Bailey's Lounge for more info and recipes.
FYI -275 millions litres of fresh Irish milk are required annually to produce the fresh cream used in the manufacture of Bailey's. 40,000 of the top-bred Irish dairy cows produce the daily cream requirement, grazing on approximately 1,500 selected and accredited Irish Farms, mainly on the East coast of Ireland. The whiskey is a triple pot still blend, made to propriety specification and supplie from The Old Middleton Distillery Co. The sugar comes from sugar cane and sugar beet. The distinct style of Bailey's is derived from a unique proprietary recipe of natural cocoa extracts, giving the liqueur its chocolate character and taste.
Wondering how long you can keep your bottle of Bailey's? According to the manufacturer, Bailey's has a shelf life of thirty months and guarantees its taste for two years from the day it was made, opened or unopened. I never knew it was possible to have a bottle of Bailey's open and unfinished for even a few months let alone thirty. Store the bottle away from direct sunlight, and at a temperature between 5C to 25c, if you want to keep it for a long time.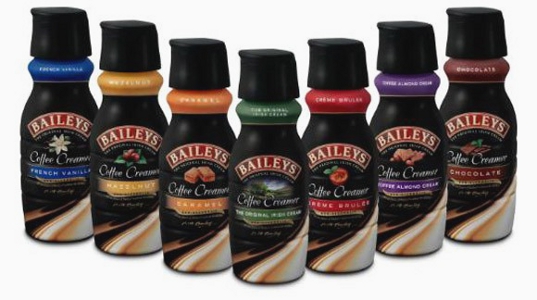 For those who enjoy flavoured coffee, without alcohol, try these Bailey's coffee creamers from HP Foods. It is available in the US at many large retail stores such as Safeway, Walmart and others. Go to Bailey's Coffee Creamers for a list of US retailers. Unfortunately, not available in Canada, and I could not find it online. If you know where to buy Bailey's coffee creamers in Canada let us know.
Cheers!