Grand Centenario Rosangel Tequila
Gran Centenario is Mexico's most award winning ultra-premium tequila producer. Named in 1895 to commemorate the turn of the new century, Gran Centenario has remained family owned and continues to be hand crafted in small batches at Hacienda Los Camichines in Jalisico, Mexico. Gran Centenario tequila is another of the numerous brands owned and produced by Jose Cuervo, but with more limited production than other Cuervo brands.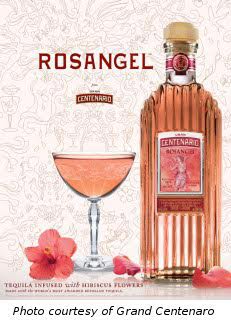 A few years ago, Gran Centenario released a new ultra-premium, pink-tinged spirit – Gran Centenario Rosangel, the world's first hibiscus-infused tequila. Rosangel, like Gran Centenario's much-loved Reposado, is made of the "finest, sweetest, highest quality" 100% Highland blue agave, harvested after 10 to 12 years. The hearts of the agave are baked for up to 72 hours in traditional clay ovens to "guarantee that even the subtlest flavors of the agave remain". After the resulting spirit is fermented and distilled, it rests in new French Limousin white oak barrels for a minimum of 10 months. The Reposado is then blended with a small amount of older tequila reserves for character and balance, after which it rests for two months in port barrels, which "imparts Rosangel's sunset pink hue and deepens the complexity of its flavor." Finally, the spirit is infused with the natural flavor of delicately sweet hibiscus flowers, a staple in Mexican culture and cuisine. The finished product has a complex, perfumed nose with ripe fruit and floral notes, plus hints of vanilla, while the palate holds flavors of dried fruits leading to a smooth, gentle finish. The sophisticated sunset pink color is perfect for cocktail creations.
Gran Centenario competes in the premium tequila range with the likes of Don Julio, Herradura, and Tres Generaciones tequila, among others. Currently imported by Skyy Spirits, Gran Centenario stands as an interesting choice for tequila aficionados.
Salud!