Pama pomegranate liqueur is American, released in 2006, and produced by Pama Spirits Co of Bardstown, Kentucky.  Pama is becoming a mainstream ingredient used in mixed drinks by bars and restaurants all over North-America. Pama is the category leader in pomegranate liqueur. This is not surprising, because of its authenticity, balanced flavour, and beautiful bottle. Pama is made with all-natural pomegranate juice, premium vodka and a touch of imported tequila. It has a ruby-hued colour, sweet yet sour flavours. It is bottled at 34 proof and is very versatile. The company strives to capture the rich history and mystery of the pomegranate fruit (forbidden fruit) in a bottle.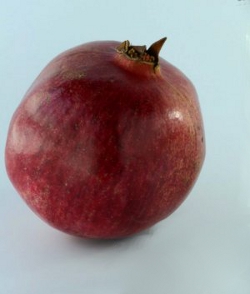 Pomegranate fruit
No fruit compares to the pomegranate. It has been associated with tales of mystery, romance , and health. The pomegranate legend has come a long way over time, revered throughout history as a symbol of health, fertility, and rebirth. It is believed that the pomegranate may have been the 'apple' in the Garden of Eden. Ancient Greeks believed it was a symbol of love and war. Another Greek myth tells how Hades, god of the underworld seduced Persephone with a pomegranate. Pomegranates are very low in calories, but rich in phosphorus-important for building good bones and absorbing nutrients. Their sweet flavour is very refreshing in hot weather. Mix them with cranberry or blueberry and you have a great antioxidant potion. I'll drink to that!
Experience the endless cocktail PAMAbilities.
Cheers!