Vana Tallinn Rum-Based Liqueur
(originally posted in 2015)
A while back doing research, I read about this premium liqueur Vana Tallinn. A few weeks ago, I had the opportunity to taste it at a liquor industry product tasting event. I really liked it at my first sip, I found it flavourful, smooth, well-balanced, and elegant. I knew that I would add Vana Tallinn to my bar. This liqueur has broad appeal and will suit most palates.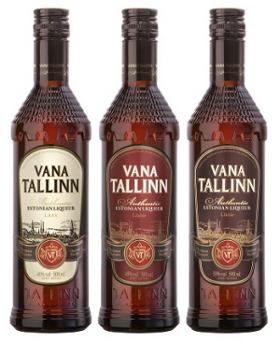 At the end of the 19th century, Estonia, as a part of the Russian Empire, proclaimed the State Vodka Monopoly Law. As a result of that, the cornerstone of the State Spirit store in Tallinn was festively laid by the order of the Russia's Czar on September 25, 1898. This date is regarded as the birthday of AS Liviko.
Vana Tallin is the flagship brand of Estonia's oldest alcoholic beverage manufacturer AS Liviko, which has 110 years of experience in producing spirits of the highest quality. The history of the Vana Tallinn liqueur dates back to the beginning of the 1960's. The liqueur masters of Liviko created a new and unique taste with the main flavours being rum and citrus. The exact recipe is a well kept secret handed over from one liqueur master to another. Vanilla pods, orange, lemon and bitter orange oils mixed with Jamaican rum give the drink its unique velvety and exotic flavour. A hint of cinnamon adds an exciting, slightly bitter aroma. The company produces a range of different alcohol strengths from 40%, 45% to 50%. Recently, they added two types of 16% liqueur varieties: cream and chocolate flavours.
The name Vana Tallinn, which literally means "Old Tallinn", links the drinks with the old medieval heart of Tallinn, thus creating consistency with traditions. This amazing liqueur embodies the skills of the masters through centuries. Vana Tallinn has become one of the most well-known liqueurs in the Baltic countries and Scandinavia, and surely soon will be a popular brand all over North America.
Vana Tallinn is delightful on its own, also perfect with coffee, tea, and well suited in cocktails. I enjoy it straight up, but in a glass that has been slightly chilled. You might like the following cocktails: Vana Kraken Martini ~ Vana Mundo Martini ~ Vana Crema Shot.
Cheers!