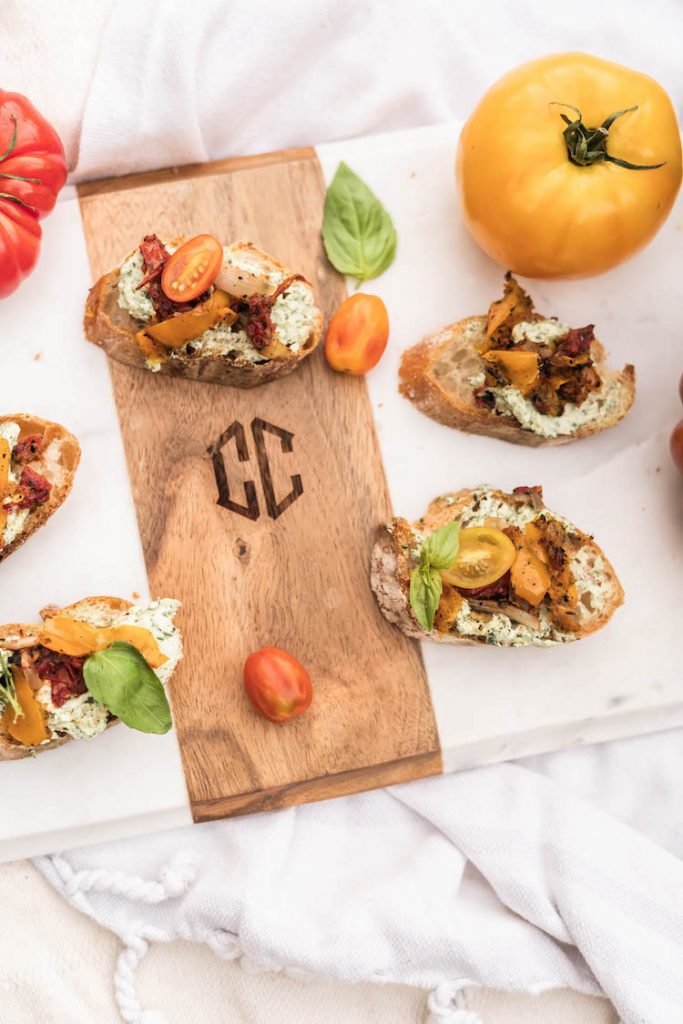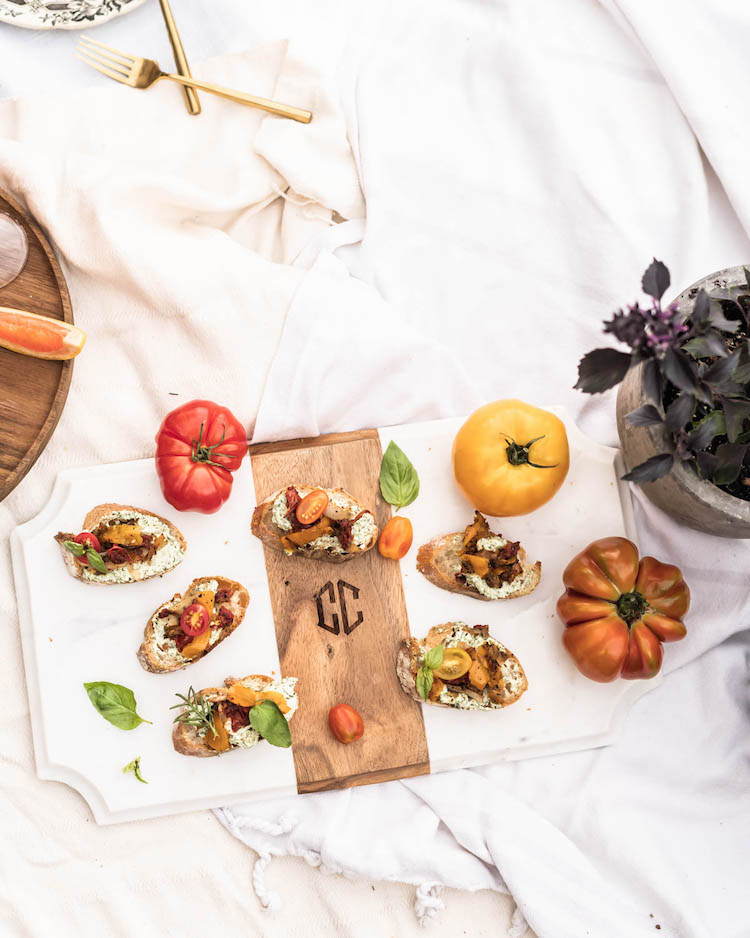 These Tomato Pepper Toasts with Whipped Basil Goat Cheese are so easy and delicious for a summer picnic! And the best part is, they utilize scrapes from juicing. I don't know about you, but always hate throwing away kitchen scrapes. I have been getting creative with how to reuse things that are normally thrown away.
I used the pulp of tomatoes and peppers left over from juicing for the Portager Potable cocktail. Reusing pulp from juicing is a great way to keep kitchen scraps from being thrown away. Fruit pulp is great mixed into smoothies while vegetable pulp can be used mixed into stews. In this case, peppers and tomato pulp is turned into a sauteed mix for topping toasts! Along with a fresh whipped basil goat cheese, these Tomato Pepper Toasts with Whipped Basil Goat Cheese Toasts are irresistible for a summer snack, picnic, or happy hour!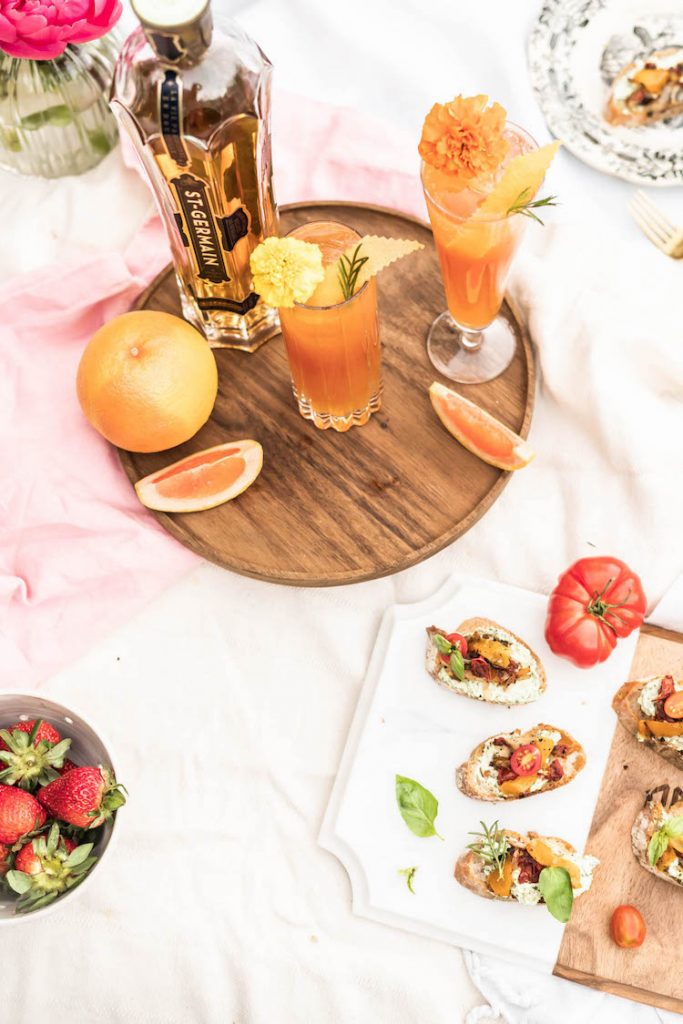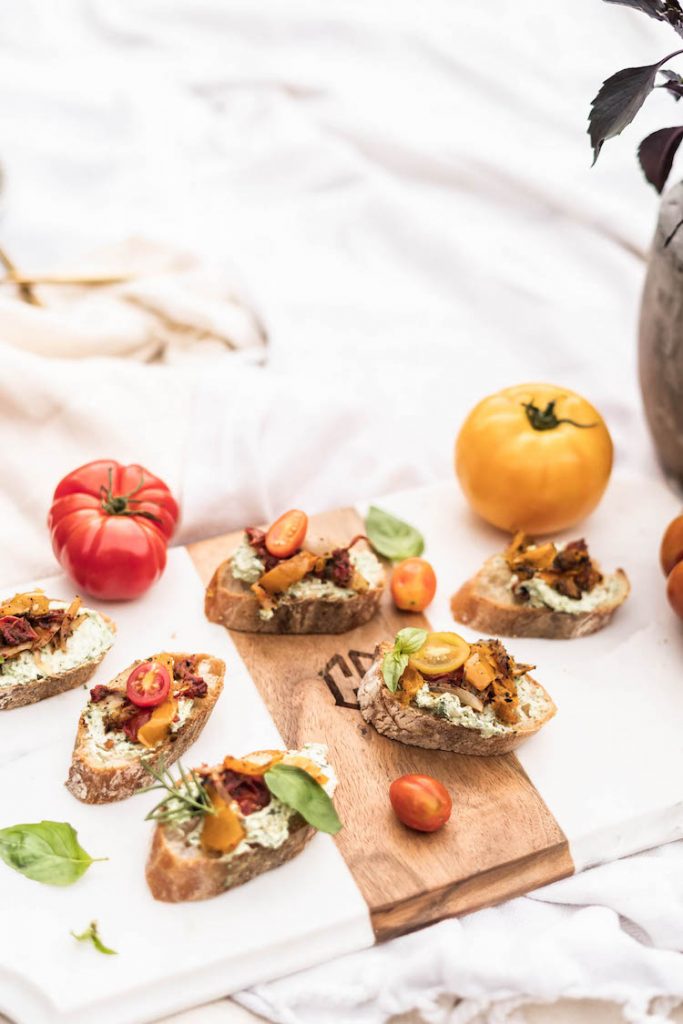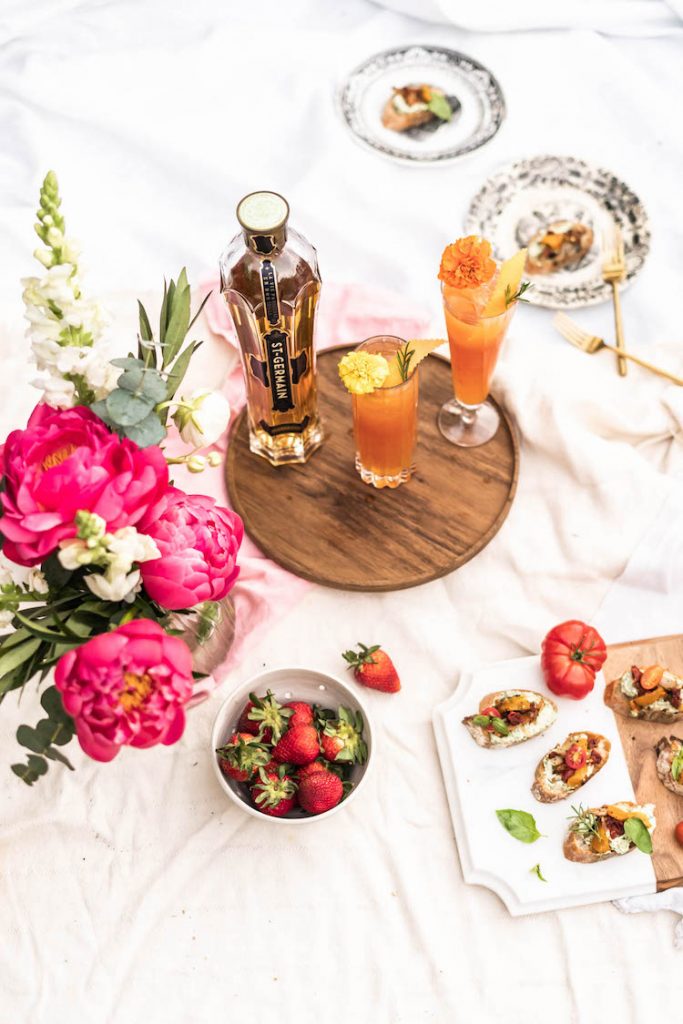 ---
Description
Tomato Pepper Toasts with Whipped Basil Goat Cheese using kitchen scraps from juicing vegtables.
---
Scale
Ingredients
15 gram

s basil

1

small clove garlic

60 gram

s orange bell pepper pulp

35 gram

s tomato pulp

30 gram

s yellow onion, sliced thin

1

french baguette, sliced

30

basil leaves
---
Instructions
Whipped Basil Goat Cheese
Add goat cheese, basil, and 1 clove garlic into a food processor & pulse for 10 seconds or until incorporated and whipped. You can also use bowl and hand mixer and whip.
Store in a container in the fridge for 1 week.
Tomato Pepper mixture
Add tbsp oil to the pan. Sauté the onion for 5 minutes on medium.
Add the tomato and pepper pulp and sauté for 4 minutes, breaking up any large pieces of pulp into thin pieces.
Take off heat and store any unused in a container in the fridge for 3 days.
Assemble toasts
Spread 1 tbsp whipped goat cheese to each slice of baguette.
Top with large 1 tbsp tomato and pepper mixture on top of the toasts. garnish with 2 small basil leaves.
---
Notes
You can use fresh tomatoes and peppers in place of the pulp, but will need to be sauteed longer to remove the extra liquid.