Not just for enjoying haggis and whisky, Burns Night is also famous because of the poet Robert Burns. Held on the 25th of January, this annual event celebrates the career of one of Britains most famous poets. Best known for the poem Auld Lang Syne (yep that poem), Burns died in 1796.
On Burns night it is customary to eat haggis with neeps and tatties (turnips, swede and potatoes) and drink whisky. As well as haggis and whisky, there are some amazing Scottish desserts that can be enjoyed on Burns Night. Both of which contain whisky. Because why not.
2 Classic Scottish Desserts You Need To Make This Burns Night
Cranachan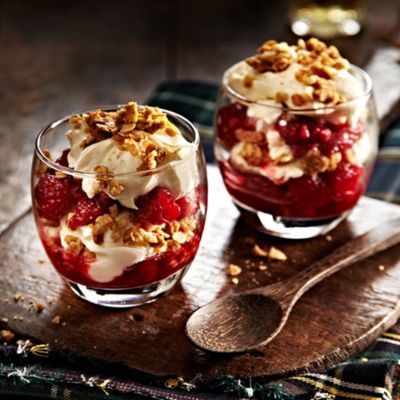 Ingredients (Serves 4)
2 tbsp of Porridge Oats
300g of Fresh Raspberries
Caster Sugar, to taste
350ml of Double Cream
2 tbsp of Heather Honey
2-3 tbsp of Whisky, to taste
Method
1. Spread the porridge oats on a baking tray and grill until it smells rich and nutty. It won't darken very quickly, so you'll have to use your nose to tell when it's done. Once done, set aside to cool.
2. Make a raspberry puree by crushing half of the raspberries, and sieving. Sweeten to taste with some caster sugar
3. Whisk the double cream until set and then stir in the honey and whisky. Be careful not to over whisk the cream. Taste and add more whisky or honey if desired.
4. Stir in the porridge oats whisking the cream lightly until it's firm.
5. Add a layer of cream to a glass dish, followed by a layer of raspberry puree and some of the remaining fresh raspberries.
6. Keep alternating layers until the glass dish is full. Repeat the process for the remaining 3 dishes.
7. Chill the dishes before serving.

Classic Scottish Tipsy Laird
Ingredients
300g of Sponge Cake cut into thick slices
300g of Fresh Raspberries
6 tbsp of Scottish Whisky or Drambuie
500ml of Custard (can be premade or you can make your own)
500ml of Double Cream, softly whipped
A Handful of Toasted, Flaked Almonds
This recipe can be used to make one large dessert or 6 individual dishes
Method
1. Line the bottom of the dish or the glasses with the slices of sponge cake. If you're just making one large Tipsy Laird you can cover the whole bottom of the trifle dish with the cake slices. 
2. Layer the raspberries over the cake, but keep some aside for decoration. Sprinkle the whisky over the cake and raspberries, making sure it reaches the slices of cake.
3. Spoon over a layer of custard, we recommend a thick layer of custard.
4. Add a thick layer of cream to the dish. This can be spooned or piped.
5. Finish the Tipsy Laird by decorating it with the remaining raspberries and a few toasted almonds.
If you're making this dessert for children, obviously omit the whisky, and add a sprinkle of grated chocolate on top. 
So there you have it 2 classic Scottish desserts you can serve this Burns Night. Personally, I think these desserts can be enjoyed all year round! I mean they're just a boozy trifle and a boozy Eton Mess! Love it!
If you're in the market for some new tableware, head on over to drinkstuff.com we've got everything you could want!